Beau's Story

When the doctors of my newly-born grandson, Beau (born Oct l7, 1998) suspected that he was suffering from possibly Crouzon's Syndrome and the local doctors had not any experience in this case, I immediately searched the Internet and found the Crouzon's Support Network page. These were what the doctors had written on his chart:

"1. Fingertips, long & tapered. 2. Head - Low set, malformed ears, hypertelorism; hypoplastix maxille; arched palate, trichiasis; micronathia; choanalstenois membranous 3. The EENT discovered hypertropic turbinates, bilateral choanal ste- nosis, membranous type, and laryngeal polyp 4. No abnormalities in his heart. 5. Congenital pneumonia (has remarkably improved)" In the first two weeks, he had received blood transfusion (3x) due to mild brain hemorrhage (could have been due to severe infection).

Our primary concerned was how to let him breathe normally. Since the beginning, oxygen were intubated into the mouth - throat. Without this, he was struggling to breathe because of smaller nasal airway brought about by item 3 (above) and possibly smaller or underdeveloped pharynx.

On Day 17 after his birth, he had nasopharyngoscopy, laryngoscopy, bronchoscopy. He was inserted with artificial nasopharyngeal airway, but it didn't resolve the breathing problem. Attemps to extubate (remove the oxygen tube) were unsuccessful.

Unfortunately, the doctors in our place, (Cebu, Philippines--a country in Southeast Asia), have not had a case like him and they cannot seem to know how to handle his case.

We lost Beau on January 3, 1999, the Feast of the Three Kings, (which we Roman Catholics observe as a feastday), our beautiful little angel 'Beau Gabriel Quimbo Arrogante.' As the officiating priest said, "...the Three Kings offered their gifts of gold, frankincense and myrrh." Lemuel and Happy gave their most treasured one -- Beau. He was with us for a short while but he touched the hearts of our family as well as those of friends and even virtual strangers. We found this hard to explain but he truly was a gift from the Lord whom He had to recall much too soon. We are thankful for the gift, and with grief we accept His will. May the good Lord use Beau to assist His angels in dispensing his many graces to family and friends. God Bless you and your family. Hugs, Fred.

Fred Quimbo, grandfather of Beau in the Philippines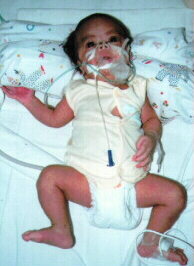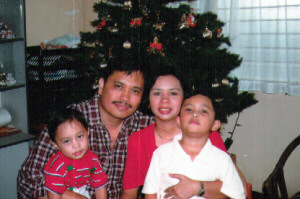 Beau at 2 months old. His Christmas '98 last photo alive.

Arrogante family (Beau's Parents and brothers) L to R: Mitch, Lemuel, Happy and Renzo - Christmas '98

Information and support for individuals and families

affected by Crouzon Syndrome and related craniofacial anomalies

File your Pathfinder Activity Report!

Pardon Our Dust!  We're Re-Vamping the CSN Website!

This page was last updated: August 17, 2011
© Crouzon Support Network, a program of AmeriFace

PO Box 751112, Las Vegas, NV 89136

Toll-free:  (888) 486-1209  Fax:  (702) 341-5351