Blake's Story

Blake William Scofield was born on April 15, 1994, with Crouzon Syndrome. His surgeries have included:

Sept. 1994 - cranial sutures release & forehead advancement.

Feb. 1995 - cranial vault & forehead advancement

March and April 1995 - two eye procedures

Sept 1995 - Shunt added

August 1996 - shunt repaired

January 1998 - cranial vault & forehead advancement

In February 97, Blake and other children participated in the unveiling of "The Kids Gallery" at the Wolfchase Mall in Memphis. The wall consists of ceramic titles designed by children. Le Bonheur Children's Medical Center where he had his early surgeries. Mom and grandmother do volunteer work to benefits the hospital. We work all year for a fundraiser during the Christmas season called " The Enchanted Forest/Festival of Trees."

Blake is an outgoing child who is sensitive and caring. There is total love from his great network of family and friends. Blake is special.

Grandma Gaylann

Grandmother of Blake, Gaylann Hicks, Cordova, TN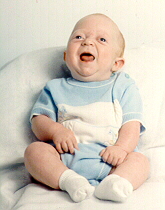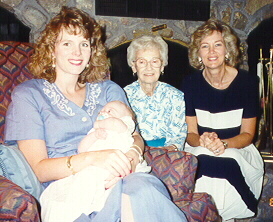 Blake, his mother, great-grandmother, and grandmother at his Christening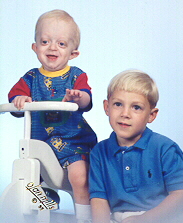 Wade, 3, and Blake, 15 months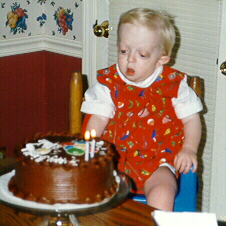 Blake (2-1/2) , Blake's grandfather, and Wade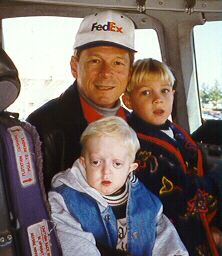 Gaylann, Sonya, Bill, Wade, and Blake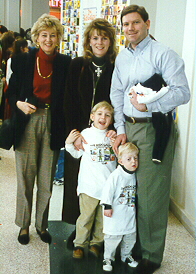 Florida Vacation - Summer 1997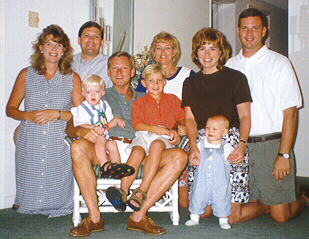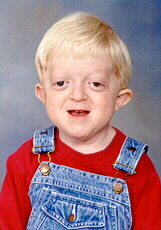 This page was last updated: August 17, 2011
Information and support for individuals and families

affected by Crouzon Syndrome and related craniofacial anomalies

File your Pathfinder Activity Report!

Pardon Our Dust!  We're Re-Vamping the CSN Website!

© Crouzon Support Network, a program of AmeriFace

PO Box 751112, Las Vegas, NV 89136

Toll-free:  (888) 486-1209  Fax:  (702) 341-5351