Janet's Story

My name is Janet. I was born on June 20, 1970. I have Crouzon Syndrome. I was born and raised in Southern California and just recently married on Jan. 3, 1997. My husband is Canadian and so after we were married I packed it all in moved with him to his hometown of Victoria, British Columbia, Canada.

I was born in Ventura County, California. Only about one hour from UCLA Medical Center. I had my first surgery when I was about 15 months old. It was the surgery to make my skull bigger. Now this wasn't done at UCLA but the doctors in Ventura knew my skull wasn't growing and had to make room for my brain. A few series of surgeries followed to make the room. All my surgeries up until I was 12 were for medical reasons, then they were for cosmetic reasons after that.

When I was growing up I had the bulging eyes, flat face and underbite. Then when I was twelve they pulled my forehead forward and built cheekbones with one of ribs. Everything went pretty smooth just a minor complication of a gland not healing correctly in my head but after quite a few spinal taps it healed.

Then when I was 16 yrs old, they did a cosmetic touch up: rhinoplasty, chin and more cheek augumentation.

I was blessed to have the wonderful doctor, Dr. Henry Kawamoto, as my main plastic surgeon from UCLA Hospital & Medical Center. He did a great job. He isn't very personable but the man knows his stuff.

The only problems I have now is my hearing and I still breathe out of my mouth even though I can breathe out of my nose. But with my face in a relaxed position my mouth doesn't completely shut and I'm so used to not being able to breathe out of my nose. These problems are very minor.

I'm a lucky person. My family was very supportive of my needs. My parents and five sublings never treated me any different. I think that was the key to me not thinking I was different hence. I thought everyone else had the staring problem. We lived in the same house for my entire childhood so I never had to go through a really new experience. I know I had some teasing but nothing I couldn't handle. Like I said I have been very fortunate. My doctors were all at UCLA Medical Center so my parents were pretty much didn't ask questions and put all their faith in these doctors.

It hasn't been till the last few years that I have really wanted to explore my questions about Crouzon Syndrome and meet people that I could compare and discuss experiences with.

I attended Ventura College (which is where I met my husband) and recieved my ECE and was working as a preschool teacher before moving to Canada. I love children but have made the decision not to bear any. My husband and I are thinking of adoption though. I am currenty volunteering at the rec.center here and have couple of part-time babysitting jobs. I hope to have a work vis by August or September and get back into being a preschool teacher.

Janet Pettit-Mantell, Victoria B.C., British Columbia, Canada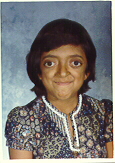 Information and support for individuals and families

affected by Crouzon Syndrome and related craniofacial anomalies

File your Pathfinder Activity Report!

Pardon Our Dust!  We're Re-Vamping the CSN Website!

This page was last updated: August 17, 2011
© Crouzon Support Network, a program of AmeriFace

PO Box 751112, Las Vegas, NV 89136

Toll-free:  (888) 486-1209  Fax:  (702) 341-5351